Jen Wood
DVM
Dr. Jen is a graduate of Ross University School of Veterinary Medicine. She received her clinical training at the University of Illinois, Urbana-Champaign. She opened Tender Heart in 2005. Originally from this area, she returned to provide a hospital environment that is compassionate for both the pet and the client. She has had advanced training in laser surgery and dentistry. She also enjoys managing difficult medical cases. In her free time, she takes care of her small farm, where she enjoys her 6 dogs, 2 cats, and 3 horses. As a hobby, she has successfully shown her Morgan horses in both driving and riding competitions.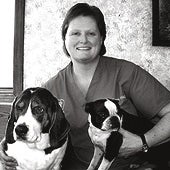 Karen Hager
Karen, pictured with her dogs "Maggie" and "Rudy", has worked with animals for over 25 years. As a young child, she would bring butterflies, frogs, and birds to a local veterinarian because they needed care, and she remembers that the doctor always took the time to help these little ones. Remembering his compassion as she grew older, Karen began working for the same veterinarian as a kennel assistant. She eventually became a technician in his clinic, working there for 16 years. After leaving this clinic, Karen took a position as Manager/Medical Advisor at a local animal shelter where she worked for 9 years, caring for animals as they awaited adoption. Now back in the veterinary field, she is enjoying what she views as a rewarding career.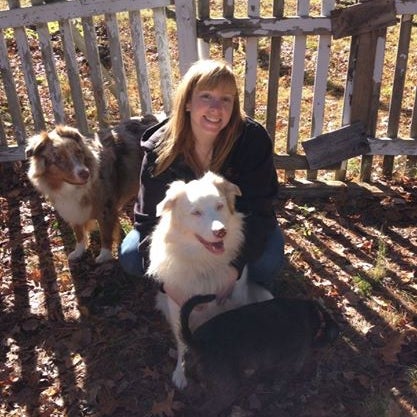 Jennifer Lang
Practice Manager
Jennifer pictured here with her 2 Australian Shepherds, Darcy and Dante brings a passion for business management and a strong love of animals. Leading the Tender Heart team provides a steady environment of learning and growth. Jennifer hopes to enhance her contribution to THVC, by obtaining her certification in Practice Management. In her free time, Jennifer loves spending time with her 2 dogs, 6 cats, and horse named Regius.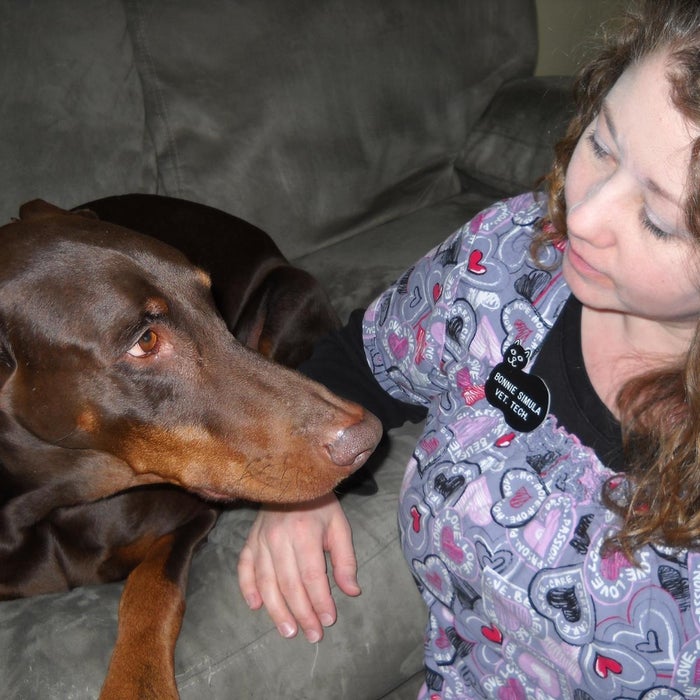 Bonnie Simula
Bonnie joined the Tender Heart staff in August 2010. She has been working as a veterinary technician since 1997. She has had an immense love of animals that dates back to her first childhood cat "Morris". Her professional areas of interest include compassionate nursing care, calming/low-stress handling of anxious/upset pets, phlebotomy, anesthetic monitoring, and surgical recovery. On her days off Bonnie enjoys antiquing, cooking, trips to the ocean and Parker River Wildlife Refuge for bird watching. She lives in Phillipston with her husband, two Doberman Pinschers, Brinks and Lucius, her funny pound dog Archie, and several cats.